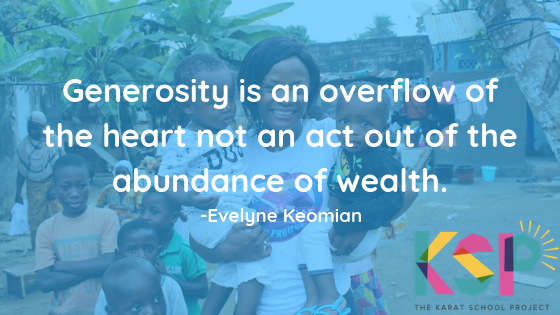 EDUCATE
Educate to ignite a better future for girls and boys.
FEED
With $19 a month, you can save a child from hunger.
SUPPORT
A one-time donation can impact many lives.
MORE WAYS TO SUPPORT
Looking for more innovative ways to support? The KSP has partnered with a new non-profit fundraising platform called inKynd. inKynd is a new way for donors and prospective supporters to contribute to causes via in-kind donations of goods, experiences, expertise. Donors list items on the inKynd marketplace where buyers can browse and shop knowing each purchase supports the KSP and our mission. Click the button below to visit our campaign page on inKynd.com!
The Karat School Project is a 501(c)(3) public charity registered in the United States, EIN# 20-5205488.
Contributions will be tax-deductible to the fullest extent of the law.